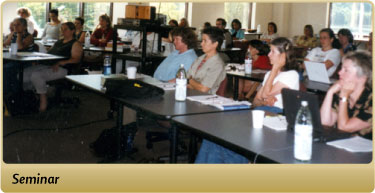 The School of Homeopathy's North American Clinical Program offers the opportunity to develop your understanding and scope through participation in Seminars and Clinical Workshops provided by senior UK faculty. These sessions afford practical experience and information for those who wish to enhance their skills of case analysis and management, and to enrich their knowledge of remedies, old and new. Seminars and Workshops are put on annually and roam across North America. We hold one in Canada and two in America annually. For information about speakers, location and dates please see the events timetable.
North American students wishing to obtain the Diploma at Practitioner level attend a minimum of three regional seminars and two workshops over the duration of the full program. This ensures you meet the required clinical hours needed for registration with the Council of Homeopathic Certification (CHC) and becoming a member of either the North American Society of Homeopaths or West Coast Homeopathic Society.
The Seminars
These three-day sessions are open to all students and practitioners. We also provide the option for members of the homeopathic community outside the school to attend for two days only if they wish. Through lectures, video cases and discussion, they provide new insights into understanding and analyzing the case, and applying new methods for differentiating remedies. This often includes fascinating new proving information.
The presentations are structured so that newer students are quickly brought along and their horizons widened. Advanced students and practitioners benefit from new perspective on cases, subtle aspects of remedies, and fresh methods and philosophy presented.
A student evening held before each seminar is reserved for students and graduates of the School. This provides an opportunity to meet together in an informal atmosphere, to discuss issues related to course studies, and to plan social activities around the seminar. This is a time for sharing, so you are invited to bring your questions, suggestions, and ideas.
Clinical Workshops
For advanced students and practitioners only, these week-long residential sessions provide an intensive experience in case work and management. The clinical workshops are open to anyone with at least two years of study or practice experience, including students of the School at Unit 11 or further.
The prime objective of these workshops is to help participants develop their case-work skills, leading to more effective practice. A wide range of teaching cases on video, as well as live cases where practical, are presented. The sessions are designed as interactive, process-orientated learning experiences, leading not only to a much deeper understanding of homeopathy, but also sharpening self awareness and skills in self-evaluation. Lectures, discussion, and small and large group exercises are facilitated by leading UK homeopaths with an expert level of knowledge in many up-to-date modes of practice.
A clinical certificate is available from the School, but students and practitioners not seeking this certification are equally welcome to attend. This certificate requires attendance at two workshops and one seminar, with rigorous assessment assignments set at each workshop, plus completion of appropriate study in orthodox medicine. It is part of the School's requirement for its PDHom (UK) Practitioner Diploma, which also requires students to have a thorough understanding of advanced homeopathic theory and practice, of anatomy, physiology, pathology and disease, and to have comprehensive supervision of their early practice cases.
Please contact the relevant country representative for further event information and prices. Details are on the contact us page.